As many of the people who know me personally might have discovered, I'm a big fan of the shmups made by
Psikyo
and
V-System
. So I was very pleased when I was able to snap up a cheap original defective
Aero Fighters
on evilBay };-P The listing text said "only small graphic error during play", and already when unpacking the PCB from the box, I got a strong feeling of what might be wrong with this poor PCB.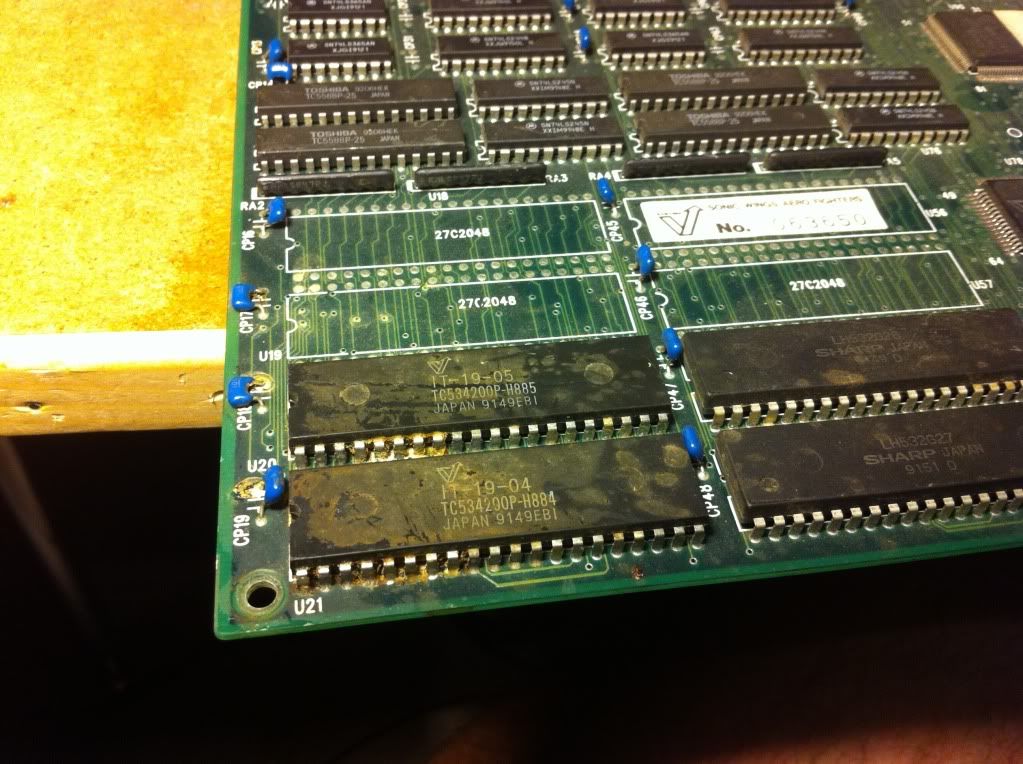 It had a corner full of rot (corrosion)!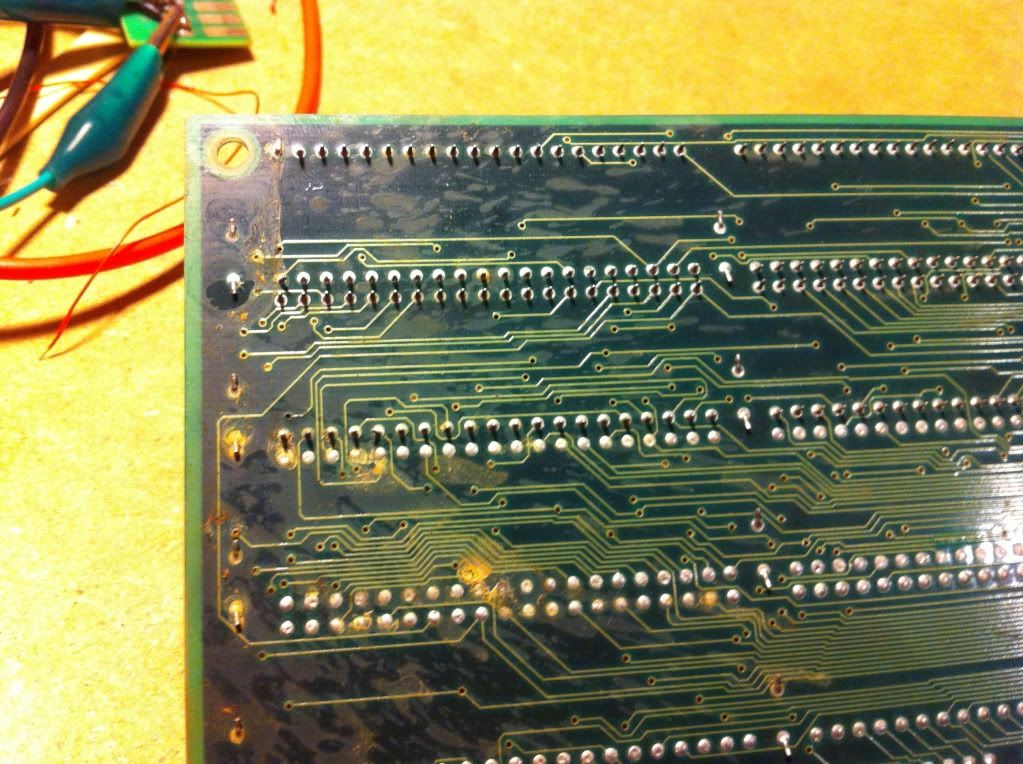 And at the bottom of the box, I found this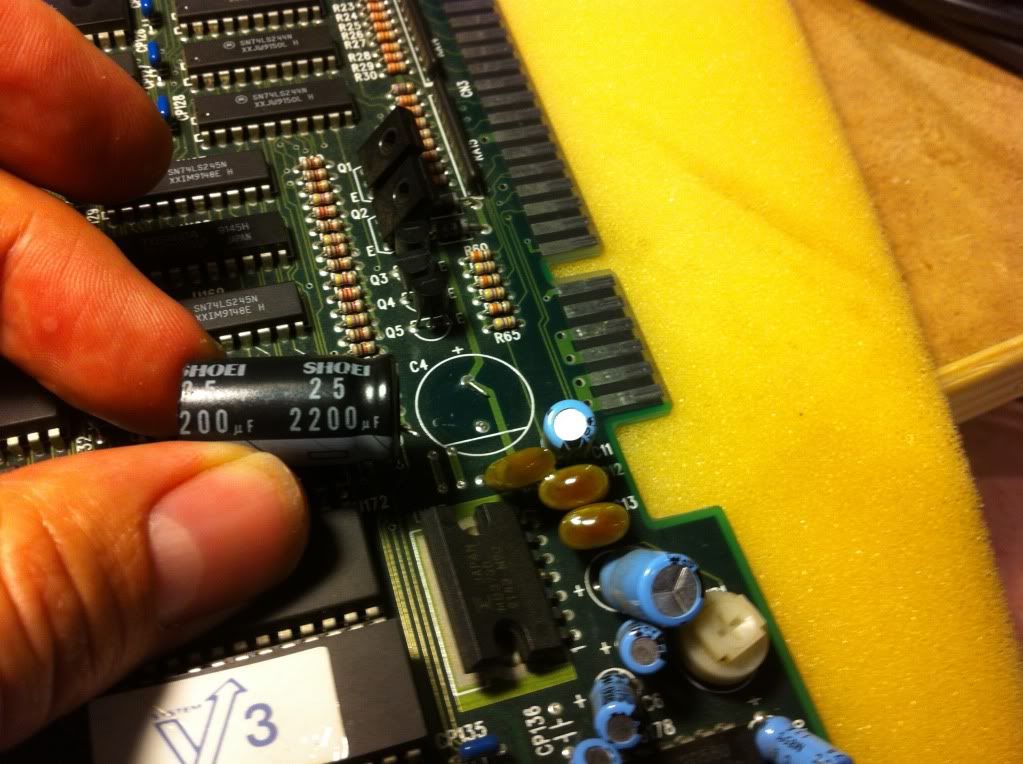 the main smoothing cap for the 12V rail. However, I tried to connect the board anyhow, to see how much damage this rot made to the actual game.
Many of the graphic elements in the intro and in-game, had stripes through them. This is often caused by poor pin connection on either RAM or ROM ICs. The ICs in the rotten area are MASK-ROMs, so I was pretty sure I'd found the culprit causing these errors. So I decided on desoldering the 2 MASK-ROMs with the "V-System"-logo on the silk screen.
I can't say that the sight that met me underneath the desoldered ICs was pretty }:-S So I started by giving that part of the PCB a good scrub with rubbing alcohol
and a toothbrush
That actually did fix up the PCB a lot, but it didn't remove all the rot
Now I didn't quite know what to use, but I had this can of
WD40
};-P
So I sprayed the infected area, waited about 5mins to let it work, and then started rubbing the individual circuit tracks with a swap.
After that I gave it a good scrub with rubbing alcohol and tooth brush again, as WD40 is oil based, and that actually made the area look a lot better };-D
Next I went through the area with my continuity tester checking the tracks, and found two broken. Both of them were at places where the track had a via on it, and then only one end made proper connection. So I carefully scraped a bit in the via holes with a Stanley knife, uncovering a little bit of copper. I then took a piece of kynar and stuck into the via hole from the parts side, used a lot of liquid flux
and soldered it into the via hole from both sides
The other ends of the kynar, I just stuck into the normal PCB holes.
That way, they'd get soldered in place automagicly, when I soldered in the sockets for the MASK-ROMs };-D And here is the final result, with the sockets (header strips) fitted
and from the solder side
Hard to see just how rotten this corner was just a while ago };-P The MASK-ROMs themselves, also had a scrub with WD40 and rubbing alcohol, and actually ended up looking quite decent.
As a last thing, I needed to fit a new smoothing cap for the 12V rail. I didn't have one as big as 2200uF, so I dug up the biggest one I could find
and just fitted that
And last but not least: The Big Test };-P
I'm very pleased to say, that game now plays perfectly; one more original V-System shmup added to the collection };-P